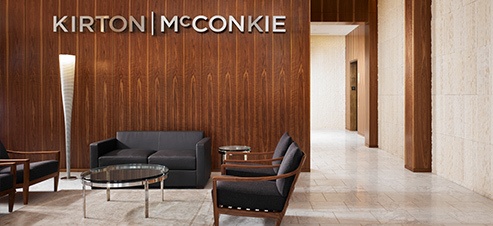 Kirton McConkie Attorneys Named as 2023 Mountain States Super Lawyers
07.12.2023
Kirton McConkie is excited to have 39 attorneys honored on the 2023 Mountain States Super Lawyers list, including 25 on the Rising Stars list.
Super Lawyers rates outstanding U.S. lawyers from more than 70 practice areas based on peer recognition and professional achievement. The selection process includes independent research, peer nominations, and peer evaluations. According to SuperLawyers.com, only 5% of attorneys are honored as Super Lawyers and just 2.5% are named as Rising Stars each year.
2023 Mountain States Super Lawyers
Rod N. Andreason – Business Litigation
Brian W. Burnett – Energy and Resources
James T. Burton – IP Litigation
Tyler Buswell* – Real Estate
Daniel Dansie – Real Estate
Cameron M. Hancock – Business Litigation
Ben Hathaway** – Business Litigation
Christopher S. Hill – Business Litigation
Loyal C. Hulme – Real Estate
Robert C. Hyde – Real Estate
Haley K. Krug – Insurance Coverage
Craig Metcalf – IP
Peter C. Schofield – Business Litigation
R. Gary Winger – Mergers and Acquisitions
2023 Mountain States Rising Stars
Qiwei Chen – Business Litigation
Bryce Dalton – Real Estate
Alyssa Depew* – Tax
Lucas Depperman* – Tax
Michael Eixenberger – IP Litigation
Jacob Green – Business Litigation
Jansen Gunther – Real Estate
Erik R. Hamblin – Construction Litigation
Jarom Harrison* – Constitutional Law
Nathan H. Jackson* – Business/Corporate
David A. Jaffa – Constitutional Law
Parker Jenkins – Real Estate
Yangzi Jin* – International
Zachary C. Lindley – General Litigation
Donald Lundwall* – International
Amy McDonald* – Health Care
Kaitlyn Montague – Real Estate
A. Chase Nielsen – Real Estate
Justin W. Pendleton – PI Medical Malpractice: Defense
Chris Sanders* – Business Litigation
Josh Sundloff – Construction Litigation
Carla Swensen-Haslam* – Business Litigation
Ryan Wallace* – Real Estate
Austin Westerberg – Business Litigation
Emily Haws Wright* – Constitutional Law

* New on this year's list.
** Tenth year on the list.