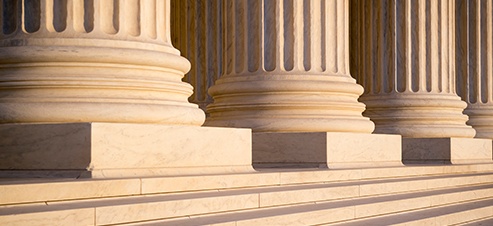 Kirton McConkie First Amendment and Religious Organizations Legal Services in Boise, Idaho
10.31.2023
Drafted and adopted in 1791, the First Amendment to the U.S. Constitution protects many of our rights as Americans, such as freedom of speech, freedom of the press, and freedom of religion. Also included in the First Amendment is the right to peacefully protest and petition the government. As you can see, the rights guaranteed by the First Amendment are quite broad, so there can be many reasons why a citizen must hire an attorney who specializes in First Amendment issues. At Kirton McConkie, we proudly offer exceptional First Amendment services to residents in Boise, Idaho, and beyond. Let's learn more about what First Amendment attorneys do and how our legal services can help you.
What does a First Amendment attorney do?
Today's First Amendment attorneys tackle various topics related to complex content and speech issues. As a leading law firm in the Intermountain West, we recognize the importance of helping clients with First Amendment issues, no matter how large or small. Here are some examples of the legal services our First Amendment attorneys provide.
Domestic and International Religious Liberty Issues
Our experienced attorneys are ready to help you with any religious liberty issues, whether domestic or international. Whether you're a religious organization, corporation, or individual, we aim to ensure that all government practices and laws neither promote a specific religion nor interfere with free exercise.
Public Policy and Government Relations
We help our clients overcome challenges in legislation, government policy, and regulation. By incorporating strategic public policy guidance, we have the diplomatic skills to help elected officials, municipalities, and state and federal agencies navigate potential First Amendment issues before they become a problem.
Risk Management Consultation
Protect your company or organization with our risk management services. Kirton McConkie offers consultations to address liability issues or difficult ethics, including conflict, disputes, communication issues, etc.
Content Licensing
A contract licensing agreement is a contract between the creator and another party. It grants the use of content in exchange for payment. As the need for content licensing is rapidly increasing, Kirton McConkie aims to provide efficient and affordable content licensing services for everyone.
General Counsel Services
The pressure to manage legal costs leaves many companies relying on attorneys for their day-to-day legal needs. Many companies that cannot provide full-time general counsel can benefit from our services because they are cost-effective, scalable, and efficient.
Cybercrimes
The prevalence of the internet and social media has only increased the number of daily cybercrimes. Online harassment, identity theft, doxing, cyberbullying, and social-media stalking are some common cybercrimes.
Endorsement Issues
Endorsements aim to boost the value of a brand as well as the person endorsing the product. But what happens if a dispute arises? Kirton McConkie represents companies and individuals involved in endorsements to resolve any issues and conflicts.
What does a religious organizations lawyer do?
Religious organizations and churches have unique concerns and legal needs unique to their specific circumstances. Because of these unique needs, complex legal issues and concerns can arise. A religious organizations lawyer can address these concerns and provide a successful outcome. Some of the services that a religious organizations lawyer offers include:
Tax Issues
Kirton McConkie helps non-profit and religious organizations navigate the complex world of tax planning for charitable and religious organizations. Not only do we offer planning services, but we can represent religious organizations if any issues arise.
Discrimination Claims
Our attorneys are experts at addressing any issues relating to religious discrimination, ensuring that your religious organization is protected from any discrimination in various contexts.
Fundraising
When fundraising, religious organizations must comply with state and federal laws and IRS regulations. We help religious organizations navigate the complex fundraising world and ensure they are compliant.
Real Estate Transactions
Any real estate transaction involving a religious or non-profit organization has additional responsibilities to abide by, some of which are only easy to navigate with the help of an experienced attorney. Kirton McConkie attorneys are experts at these types of real estate transactions and help your organization navigate them successfully.
Speak with an Idaho First Amendment attorney today!
With over five locations in Utah and Idaho, Kirton McConkie attorneys are the experienced attorneys you can trust to tackle complex First Amendment and religious organizations issues. And our expertise doesn't stop there–our premier full-service law firm assists individuals and organizations in many different practice areas. Whether you live in Boise, St. George, or along the Wasatch Front, our attorneys in Idaho and Utah offer day-to-day legal counsel, negotiations, and many more legal services to help you. Contact us today!