Kirton McConkie client recognized as Utah's SBA Minority Small Business for 2013
Press Release
05.20.2013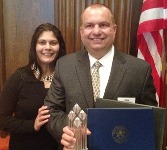 Kirton McConkie client, Global Consulting International, was honored at the 2013 Small Business Administration's (SBA) Utah Small Business Awards luncheon as the Minority Small Business of the Year. Global Consulting International Founder and President Sandeep Sharma accepted the award.
GCI specializes in helping government, commercial and non-profit clients solve complex problems in Information Technology, Healthcare Staffing, Intelligence, Aviation, Logistics and Engineering. GCI has seen tremendous growth and success this year under the leadership of Sandeep Sharma. GCI is an SBA-certified 8(a) business enterprise and Small Disadvantaged Business (SDB) with its corporate headquarters in Salt Lake City, Utah.
In his capacity as outside general counsel, Kirton McConkie attorney Lee Wright strategizes with the client on a wide range of business such as employee visas, termination and separation agreements, unemployment compensation claims, employee military leave, independent consulting agreements and independent contractor status as well as litigation strategy.